A&S Group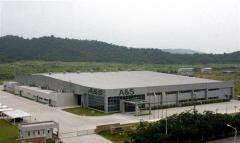 A&S Group are committed to providing top-quality parts and proper solution to industrial machinery and equipment parts supply.
A&S Wear Parts
- Manufacturing bucket teeth, cutting blades, and undercarriage parts for all popular excavators, loaders, bulldozers, motor graders and scrapers of CAT, KOMATSU, VOLVO, HITACHI, HYUNDAI, Terex/O&K, LIEBHERR, JCB, KOBELCO, SANY, SDLG, etc, and customizing parts according to samples or drawings upon special request as well.
A&S Hydraulic
- Specialized in the various brands of industrial hydraulic components parts supply, including hydraulic pumps, hydraulic motors, hydraulic valves, hydraulic cylinders, hydraulic power units and more. OEM service for those parts are also available.
A&S Automation
- Supply world leading brands industrial spare parts, such as sensors, frequency converters, encoders, relays, safety light curtains, PLC, and offer OEM service of relays.
A&S Filters
- Providing hydraulic filters, industrial filters, water filter cartridges, air filters, reverse osmosis filters, reverse osmosis membranes, gas filters, fuel water separators, marine fuel water separators, air compressor filters, diesel filters, fuel filters, oil filters, auto air filters, tractor filters, tractor oil filters, fuel pump filters, asbestos filters, bag filters, dust collectors, dust filters, filter bags, filter papers, filter materials, activated carbon filters, engine filters, pool filters, vacuum filters, furnace filters, tractor filters, ac filters, etc.
A&S Radiators
- Manufacturer of air cooling radiators, oil coolers, gas radiators for industrial heavy equipment and automobiles.