JCB Undercarriage Sprockets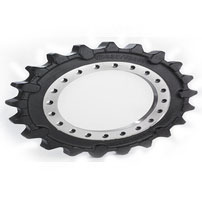 Parts Category :

Undercarriage Parts

Parts Manufacturer :

JCB

Equipment Brand :

Equipment Type :

Excavator,Loader,Dozer

Equipment Model :

Application :

Road Constructions, Railways Constructions

Minimum Quantity :

5
Description
JCB Steelmaster sprockets available in two designs dependent on which track motor is fitted, each option is induction and core hardened for maximum durability and wear characteristics.

Induction hardened production.

Ring type production for consistent strength and durability characteristics.
Very strong and durable sprockets with uniform wear throughout.
Specific sprocket for each machine requirement. Reduced wear for long lasting positive tooth – chain engagement.

CUSTOMER SERVICE
Didn't see what you are looking for? Our Technical Support team may be able to help.