Kubota KX 91-2 Sprocket 68621-14430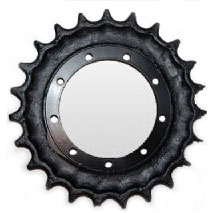 Parts Category :

Undercarriage Parts

Parts Manufacturer :

Kubota

Equipment Brand :

Kubota

Equipment Type :

Excavator

Equipment Model :

KX 91-2 S

Application :

Road Constructions, Railways Constructions

Minimum Quantity :

5
Description
SKU: 68621-14430
Weight: 22 lbs
Buy replacement Kubota KX 91-2 drive sprockets on sale online at the best price available.
Alternate Part Number:Kubota dealer part number: 68621-14430
Alternate Model Number:
The 68621-14430 sprocket is not known to be interchangeable with any other Kubota models.
Alternate Part:
There are no known alternate part listings for the KX91-2 mini excavator, this drive sprocket is guaranteed to fit.

For further information, please contact us and send us your information.

CUSTOMER SERVICE
Didn't see what you are looking for? Our Technical Support team may be able to help.