CAT J800 Penetration Tip 117-6809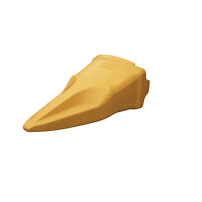 Parts Category :

Bucket Teeth

Parts Manufacturer :

CAT

Equipment Brand :

CAT

Equipment Type :

Excavator

Equipment Model :

Application :

Penetration

Minimum Quantity :

10
Description
CAT J800 J Series Penetration Tip 117-6809
Specifications
PART NUMBER: 117-6809
Tip Size: J800
Tip Length: 455 mm
Weight: 49.44 kg
J800 J Series Penetration Tip
Description:
J800 J Series Penetration Tips are ideal for densely compacted materials Attributes:
They feature a leading edge with approximately 50 percent less cross-sectional area and a single center rib for strength - allowing for maximum penetration.

CUSTOMER SERVICE
Didn't see what you are looking for? Our Technical Support team may be able to help.