Kubota Undercarriage Sprocket RC417-14430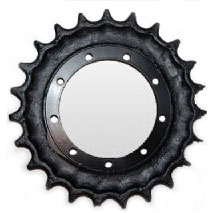 Parts Category :

Undercarriage Parts

Parts Manufacturer :

Kubota

Equipment Brand :

Kubota

Equipment Type :

Excavator

Equipment Model :

KX 71-3 KX 91-3 U-35

Application :

Road Constructions, Railways Constructions

Minimum Quantity :

5
Description
SKU: RC417-14430
Weight: 22 lbs
The diameter of the drive sprocket is 14 1/4 inches. There are nine bolt holes and twenty one teeth on the sprocket, just like the stock sprocket that came with the machine brand new from the dealership. The diameter of the drive motor mounting hole is 7 1/2 inches across. The widest part of the sprocket is at the base of the tooth 1 3/16 inches. You can reuse your original hardware to tighten the sprocket down to the drive motor but be careful not to over torque the nuts. Refer to your owner or maintenance manual for installation details.

For further information, please contact us and send us your information.

CUSTOMER SERVICE
Didn't see what you are looking for? Our Technical Support team may be able to help.