John Deere TK600 Series Tooth Point TK600FD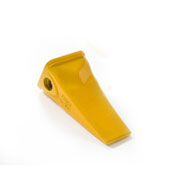 Parts Category :

Bucket Teeth

Parts Manufacturer :

John Deere

Equipment Brand :

Equipment Type :

Equipment Model :

Application :

Minimum Quantity :

10
Description
The FD features the proven John Deere Fanggs™ profile, an excellent choice for excavators and backhoes in general-purpose
applications. Designed to increase bucket fill and provide good penetration, the FD features a curved shape for greater strength.

CUSTOMER SERVICE
Didn't see what you are looking for? Our Technical Support team may be able to help.