John Deere TK600 Series Tooth Point TK600TT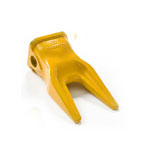 Parts Category :

Bucket Teeth

Parts Manufacturer :

John Deere

Equipment Brand :

Equipment Type :

Equipment Model :

Application :

Minimum Quantity :

10
Description
Twin Tiger Tooth
This tooth is commonly referred to as twin tiger. Having two points rather than a single point, the cut of the TT style is much wider than a single TG tooth. It is commonly used in conjunction with TG teeth fitted to the outside corner positions of excavator and backhoe buckets to maximize clearance during the dig cycle.
Like the TG tooth, the TT style is designed for optimum penetration.

CUSTOMER SERVICE
Didn't see what you are looking for? Our Technical Support team may be able to help.