John Deere TK600 Series Tooth Point TK600TG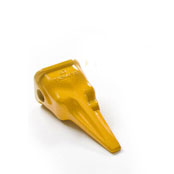 Parts Category :

Bucket Teeth

Parts Manufacturer :

John Deere

Equipment Brand :

Equipment Type :

Equipment Model :

Application :

Minimum Quantity :

10
Description
This tooth style, known throughout the industry as a tiger tooth, is designed for excavators and backhoes. The sole purpose
of the TG style is maximum penetration through any material. The reduced area of the body of the tooth makes it an excellent
choice for penetrating tightly compacted soils, clay, and even rock.

CUSTOMER SERVICE
Didn't see what you are looking for? Our Technical Support team may be able to help.